Per the Occupational Safety & Health Administration: The preferred viewing distance for VDTs ranges between 18 and 24 inches
(45.72 and 60.96 centimeters, respectively)

Filters 100% of the most damaging low-level blue and nearly 40% high energy visible light from tablets, phones, TV, computers and more.

Our lenses code is 

BB40

 for the Eyekeeper violet block glasses.

If you want to custom the different strength for each eye please let us know.
Performance via spectrum analyzer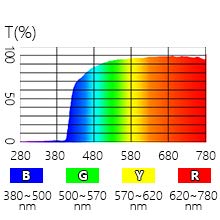 40% blue light blocking for wavelength 395nm-500nm
Data for Eyekeeper BB40 Lens