Ladies Blue Light Blocking Glasses with Yellow Filter Lens - Large Cateye Computer Eyeglasses Women - Anti Screen Blue Rays
Tax included.
Shipping
calculated at checkout.
---
---
Eyekeeper BB60 lenses - transparent lenses with 12 layer yellowish coating.100% UV protection.
Test via the spectrometer(the performance of blue light blocking):block 35% within 500nm,block 42% within 490nm,block 49% within 480nm,block 55% within 470nm,block 60% within 460nm,block 64% within 450nm,block 67% within 440nm,block 77% within 430nm,block 97% within 420nm,block more than 99% within 400nm-410nm.
20% color distortion due to 30% blue color was filtered out.
The lenses block 30% blue color of online test for color filtering properties.Please check Eyekeeper BB90 and BB98 lenses if you need block more blue color and blue light.
Metal frame with spring hinges,Lens width about 2 1/16 inches(52mm), Frame width about 5 5/16 inches(134mm), Lens height about 1 11/16 inches(42mm), Frame height about 1 3/4 inches(45mm), Bridge(DBL) about 1/2 inches(13mm), Temple length about 5 1/2 inches(140mm).
*Per the Occupational Safety & Health Administration: The preferred viewing distance for VDTs ranges between 18 and 24 inches (45.72 and 60.96 centimeters, respectively)
*Filters 100% of the most damaging low-level blue and nearly 60% high energy visible light from tablets, phones, TV, computers and more.
*Our lenses code is
BB60
for the Eyekeeper blue light block glasses.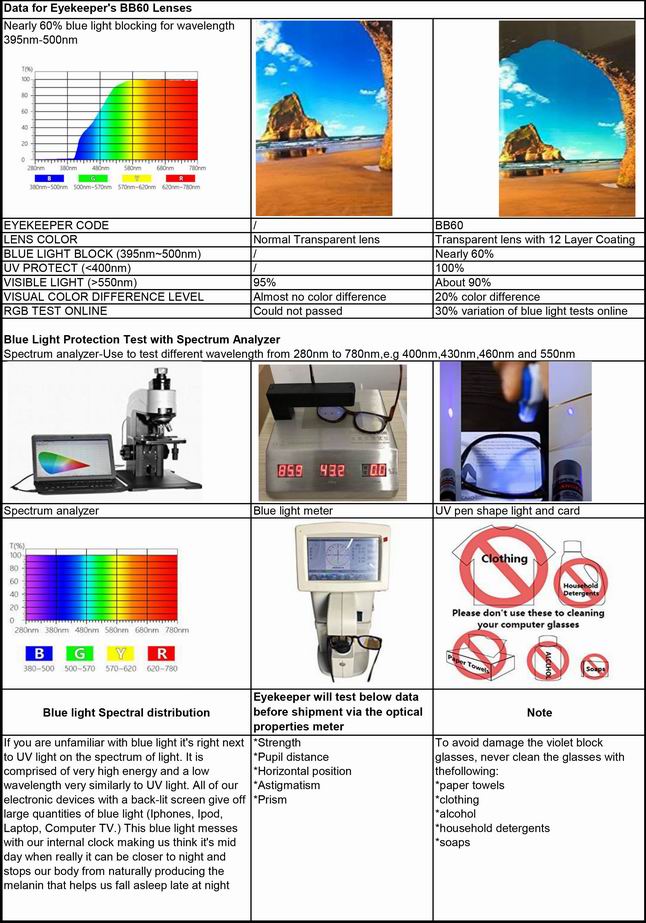 The Ladies Blue Light Blocking Glasses with Yellow Filter Lens - Large Cateye Computer Eyeglasses Women - Anti Screen Blue Rays is a sensational customer favorite, and we hope you like it just as much.

Inventory Last Updated: Aug 02, 2021
---
We Also Recommend