Blue Light Glasses - Semi Rimless Digital Eyeglasses Women - Blocking Computer Screen UV Rays - Anti Glare Filter Reduce Eye Strain - Orange Tinted Filter
Tax included.
Shipping
calculated at checkout.
---
---
Eyekeeper BB98 lenses - orange tinted lenses with 12 layer coating.100% UV protection.
Test via the spectrometer(the performance of blue light blocking):block 89% within 500nm,block 91% within 490nm,block 93% within 480nm,block 94% within 470nm,block 96% within 460nm,block 98% within 450nm,block more than 99% within 400nm-440nm.
Serious color distortion due to 90% blue color was filtered out.Please check Eyekeeper BB40,BB60 and BB90 lenses if you do not like serious color distortion.
The lenses block 90% blue color of online test for color filtering properties.
Metal frame with spring hinge, Lens width about 2 1/8 inches(54mm), Frame width about 5 1/4 inches(135mm), Lens height about 1 11/16 inches(43mm), Frame height about 1 13/16 inches(46mm), Bridge(DBL) about 1/2 inches(13mm), Temple length about 5 5/16 inches(135mm).
*Per the Occupational Safety & Health Administration: The preferred viewing distance for VDTs ranges between 18 and 24 inches (45.72 and 60.96 centimeters, respectively)
*Filters 100% of the most damaging low-level blue and nearly 100% high energy visible light from tablets, phones, TV, computers and more.
*Our lenses code is
BB98
for the Eyekeeper blue light block glasses.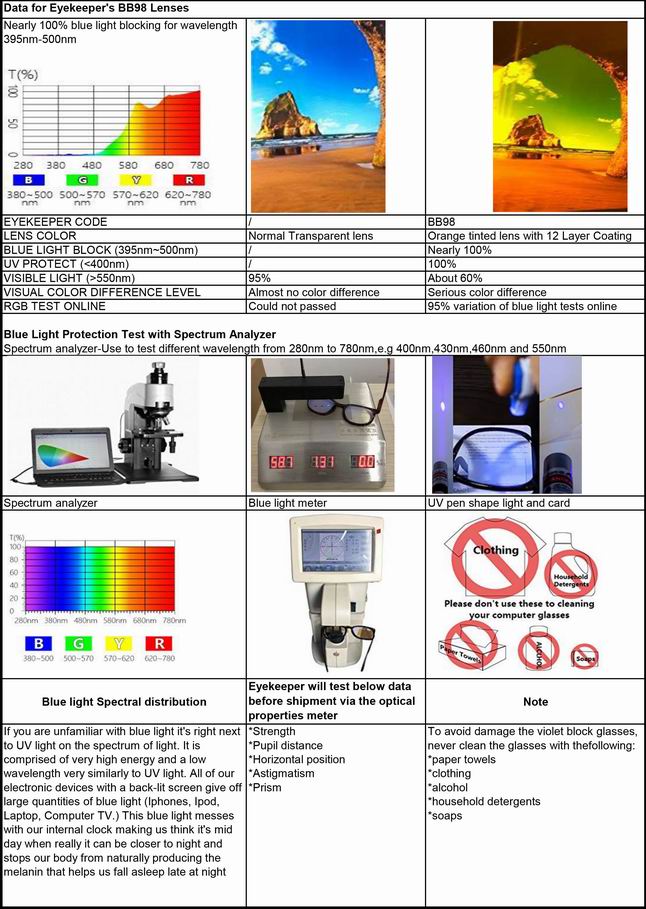 The Blue Light Glasses - Semi Rimless Digital Eyeglasses Women - Blocking Computer Screen UV Rays - Anti Glare Filter Reduce Eye Strain - Orange Tinted Filter was built with people like you in mind. Something to keep you happy. Every. Single. Day.

Inventory Last Updated: Aug 02, 2021
---
We Also Recommend