When purchasing glasses for kids, it's especially important to choose eyewear that fits, functions properly, and will inspire confidence.
1.Pick the Frame Material
Plastic or Metal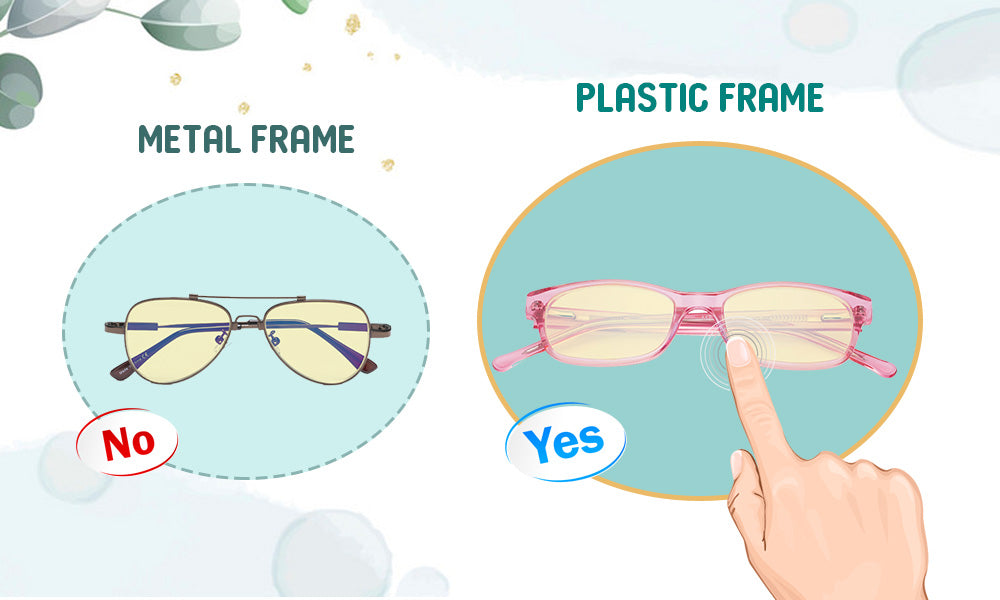 While metal frames for glasses tend to go for the cooler look, plastic frames generally lean the other way; taking advantage of their thicker, heavier and more rigid look to create bold and colourful statements. Because plastic frames have a much wider range of colours and styles, they make a good choice for kids.However, we offer more and more metal frame options that are just as affordable and hardy.Maybe some kids will want to try it.
2.Choose the Frame Color
The color of the glasses can make a huge difference of your overall look.
Please match glasses frame color to skin tone.Just for your reference.
Cool Skin Tone →The cool-toned frames like blue undertones, silver, grey, green, and clear will be your best option.
Neutral Skin Tone→ can wear just about anything. Go bold with stark black, keep it neutral with a tortoise pattern.
Warm Skin Tone→ will look great with tortoise, brown, red, orange, gold, and yellow.
3.Decide the Lenses Color

Fashion can be especially important,however function should take priority over fashion.
We offer 4 kinds of lense color, BB40,BB60,BB90,BB98.
BB40 lenses
Transparent lenses with filter.

UV420 protection.

Almost no color distortion.
BB60 lense
 Transparent lenses with 12 layer yellowish coating.

100% UV protection.

20% color distortion due to 30% blue color was filtered out.
BB90 lense
amber tinted lenses with 12 layer coating.
100% UV protection.
30% color distortion due to 50% blue color was filtered out.
BB98 lense
orange tinted lenses with 12 layer coating.
100% UV protection.
Serious color distortion due to 90% blue color was filtered out